About E.J. Ward
E.J. Ward Motor Engineers was established in 1981 by father and son, Mick and John Ward.  Mick had just left Technical College, and John who already ran a motor vehicle workshop (and owned a Stag), decided that there was a demand in the Midlands for specialist knowledge and services for the Triumph Stag.  When the business started the Triumph Stag was only 11 years old.  In the early days work mainly revolved around servicing, general mechanical repairs and the odd bit of body repair work.
As the Triumph Stag has reached maturity E.J. Wards have needed to evolve to meet the demands of todays classic car owner.  The company always has several major body restorations and full engine rebuilds on the go, as well as carrying out all aspects of motor vehicle work, such as, general maintenance and servicing, Triumph Stag Sales, re-bushing, in house machining facilities, upholstery and retrimming, state of the art spray booth, and in more recent years has developed a Spare Parts Shop.
You will see from our catalogue that we not only offer a huge range of standard spares for the Triumph Stag, but we have also developed many new and better upgrades to make this classic comfortable and reliable enough for todays owners.

Things have certainly moved on since those early days at Welford Road in Leicester. We recently moved into larger premises near Bruntingthopre in Leicestershire, and Trina, Mick's wife, who has been with the company since 1997, initially working in the workshop, is now one of the partners and oversees operations.  Since his retirement John now works part time for Mick and Trina.  (We won't let him leave, as much as he tries).  The workforce grows year on year with now two apprentices, one of whom won apprentice of the year in 2016.
OUR SERVICES 
To give you an idea of what E.J. Ward can do for you, please see below a selection of just some of the services we can offer.
Full Engine Rebuilds
We can carry out engine rebuilds to unleaded specification, cylinder head reconditioning, gear box overhauls, and replacement of all engine ancillaries. We also do general servicing and MOT testing.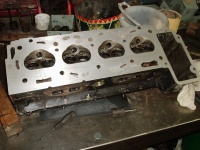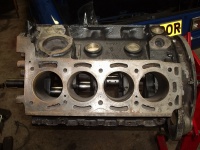 Full Body Restoration
At our workshop we undertake every aspect of body work from full body restorations and accident damage work, re-sprays and MOT repairs.
| | |
| --- | --- |
| | |
| Before... | after. |

Rebushing
We undertake all maintenance and repair work including suspension and brake overhauls.  We carry full stock of all polyurethane bushes for the Stag and can also provide uprated shocks etc.
Retrimming & Upholstering
We carry out retrimming work and upholstering e.g. replacing seat covers with vinyl or leather, carpet fitting, chrome plating service, hood fitting, dash re-veneering etc etc etc
Not Only Stags...
With many years experience in classic cars, and our fantastic facilities, we are always being asked to work on other classics - which we are highly delighted to do as variety definitely is the spice of life.  Below are photographs of some of the cars we have worked on in the past, including the very rare and exceptional Fast Back Stag!
| | |
| --- | --- |
| | |
| Porsche 356 - Full Body Restoration and Respray   | Triumph Gloria - Respray |
Lancia Flaminia Zagato - Respray, Some Panel work

Triumph Mk1 - Fitted Stag V8 Engine, Full body Rebuild

Brake and Suspension Overhaul
| | |
| --- | --- |
|                                                                                           | |
| Romany Caravan - Welding to Brake Components  |  Triumph Gloria - Service, Fit Bespoke Exhaust System                                                                           |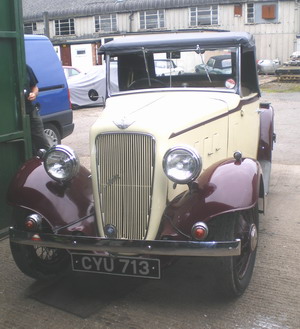 1920's Austin - Recondition Cylinder Head
You name it, E.J. Wards can do it!